ALBANY, N.Y.— The Professional Insurance Agents of New York State Inc.'s President-elect Gary Slavin, PIANY Executive Director Kelly Norris, PIA Management Services President & CEO Jeff Parmenter, and PIANY's Director of Government & Industry Affairs Bradford J. Lachut, Esq., attended the Excess Lines Association of New York's annual meeting yesterday.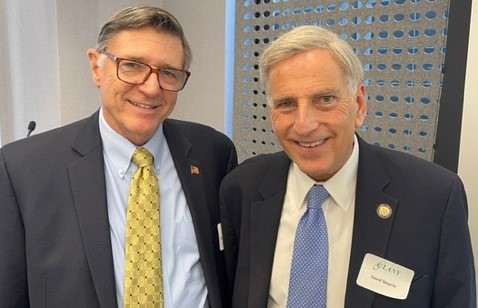 PIANY President-elect Gary Slavin (left) with Assemblyman David Weprin, D-24 (right)
Sen. Neil Breslin, D-46, and Assemblyman David Weprin, D-24, chairs of the insurance committees in the Senate and Assembly, respectively were special guests. The legislators spent time with attendees discussing the past legislative session, and what is to be expected in 2024.
Breslin and Weprin were great supporters of PIANY during the 2023 legislative session. Half of PIA's identified priority issues passed by both chambers of the New York state Legislature. Those issues, photo inspection waiver and the bait-and-switch bills were sponsored by Sen. Breslin and Assemblyman Weprin in their respective chambers. When asked about PIANY's success PIANY-President Elect Gary Slavin said, "With this battling average I would be in the baseball hall of fame in Cooperstown!"
While 2023 was a successful year, PIANY already is laying the groundwork for 2024 and beyond. Slavin met with Weprin and his staff to discuss potential labor law/scaffold law. Slavin informed the assemblyman and his staff that "New York state is the only state with this law, and it puts our businesses at a disadvantage when trying to compete for jobs and it adds to the increasing rents and the cost of doing business in the state, which ultimately is paid for by the residents of New York. We need to find a solution to this situation and give consumers a break."
###
PIA New York is the premier professional association for independent insurance agents, working to advance the needs of its members and be a leading voice in the insurance industry. PIANY provides members with the very best education, information, advocacy, and business tools possible.