Assemblywoman Stacey Pheffer Amato, D-23, represents Broad Channel, Hamilton Beach, Howard Beach, Lindenwood, Ozone Park and the Rockaway Peninsula in Queens. Audrey I. Pheffer—Pheffer Amato's mother—held the same Assembly seat for 25 years. After Pheffer Amato's election, they became the first mother-daughter team in New York state history to hold the same seat.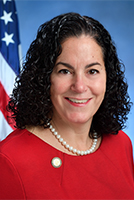 Pheffer Amato was born in Rockaway and is a longstanding community advocate, which includes a 15-year membership to the Rockaway Beach Civic Association. Additionally, she served as the president of the parent associations for her children's schools—even following the displacement of the school during Superstorm Sandy.
Pheffer Amato sponsors one of PIANY's 2022 legislative priorities. The bill—A.950-C—would standardize the definition of windstorm in New York insurance policies. This standardization would give a clear understanding to policyholders about how their policies will respond during a windstorm or hurricane. At the same time, insurance carriers still would be able to distribute hurricane risk between insurers and policyholders, with freedom to adjust deductibles.
Before serving in the state Assembly, Pheffer Amato worked for the New York City Department of Education. She has a bachelor's degree in business economics from SUNY Oneonta. Currently, Pheffer Amato lives in Rockaway Beach with her husband, Frank; their children; and their cat, Sugar, and the family owns a local pizzeria.
Recently, PIANY met virtually with Pheffer Amato to learn more about her. She shared what she thinks is the biggest public-policy issue facing New York, the importance of A.950-C to New Yorkers, and her favorite pizza topping.
You sponsor of A.950-C, which would standardize hurricane deductible triggers. Why do you think it is important for New York to standardize hurricane deductible triggers?
Pheffer Amato: My community—like many other coastal communities throughout the state—is subject to so many extreme weather events, and it should not be surprised by inconsistent insurance policies. Cost certainty and predictability for anyone paying insurance—especially after a deductible-triggering event—is absolutely crucial.
What is one thing the insurance industry should do to respond to the effects of climate change?
Pheffer Amato: Insurance companies have to adapt to climate change and begin to offer discounts for policyholders … to green their homes, and to add resilient infrastructure. By that, I mean discounts for adding solar panels, raising their homes, etc.
As a member of the Standing Committee on Consumer Affairs and Protection what consumer-protection issue do you think is the most pressing in the wake of the COVID-19 pandemic, and how do you think it can be fixed?
Pheffer Amato: Since the first day of the pandemic, price gouging and sales of fake goods have been a problem. Bad actors took advantage of the public and raised the prices of [personal protective equipment]. We need an increased enforcement effort—especially online to crack down on this practice.
What do you think is the biggest public-policy issue facing the people of New York, and how do you think we should address it?
Pheffer Amato: In our state, we must continue to focus on the COVID-19 pandemic. We're not out of the woods yet, so we must work to crush this virus once and for all. Then, we can start to recover—economically and mentally—from what has been a brutal year.
What is your favorite memory of your time in public service?
Pheffer Amato: Two thoughts come to my mind. First, is witnessing [Gov. Andrew M. Cuomo] sign my bill into law that requires every public school on Sept.11, to pause for a moment of reflection. It was such an incredible event. Second, is my mom and I made herstory. We are the first mother and daughter in New York state history to represent the same district.
Bonus question: What is your favorite pizza topping?
Pheffer Amato: Is this a trick question? Come on, I'm a pizza purist!

Katherine "Kat" Slye-Hernandez, Ph.D.
Katherine "Kat" Slye-Hernandez received her Ph.D. in political science from the State University of Albany, Albany, N.Y., in May 2020. She also has her Master of Arts from SUNY Albany and a Bachelor of Arts degree in Political Science and History from Elmira College, Elmira, N.Y.